Meet up with The Team ReminiSens in the corridors of Time!
The Team ReminiSens is composed of a ragne of Artists with numerous talents: Chef de Cuisine, Comedians & Improvisors, Singers, Dancers & Magicians. One same goal: Make you travel to a unique world, moving & fascinating!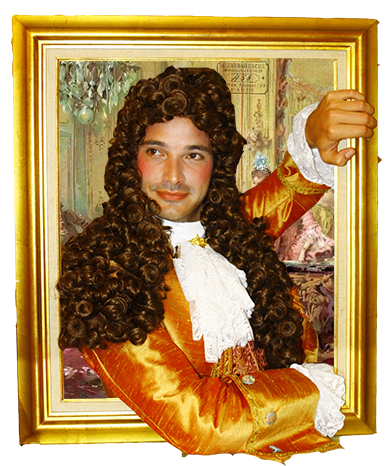 Martin alias Albert Comte de Mercoeur
Contemplation is like a fruit, it ripens better in the sun...
Justine alias Eleonore Dambray Marquise de Beauregard
There are 2 behaviors in life: either we dream it or we accomplish it !

René Char

Carl alias Charles Victor Baron de la Poudrière
Antea alias Lucrezia Van Decker Marquise de Rasponi
Born to avenge my sex and master yours.


Marquise de Merteuil, Choderlos de Laclos
Ivan alias Charles Madinier, Baron d'Ezpeleta
Louise alias Jeanne de Neflier, Marquise de Montflanquin
Tell your friend a lie, and if he keeps it secret, tell him the truth
Hugues alias Charles Belin de Cressac
To conquer without danger, we triumph without glory

Corneille
Marguerite alias Rose Marquise de Montmorency
It is a misery not to have enough spririt to speak well, nor enough judgment to be silent


Les caractères, La Bruyère

Anthony alias Pierre Brailly Marquis de Tourzel
Memory is the scent of the soul

Lise alias Athénaïs Marquise de la Barigoulde
ACTRESS, AUTHOR & DIRECTOR
You are not born a Marquise, you become it!

Simone de Beauvoir
Frédéric alias Antoine de la Barachonière, Comte de la Feuillade
The emptiness of the stomack produces the emptiness of the brain...


Book Le gastronome Français ou l'art de bien vivre

The paper suffers evrything, and yet blushes with nothing.

All the world's a stage. And all the men and women merely players. They have their exists and their entrances, and one man in his time plays many parts.

Shakespeare
In life, I never lose. Either I Win or I Learn!


Nelson Mandela
It is not enough for the Taste to see, to know the beauty of a work; you have to feel it, to be touched by it.


Voltaire
Jean-Luc, alias Ferdinand
I serve you with joy the dishes that will bring you the happiness that Gastronomy offers.

Creativity is inventing, expressing, growing, taking risks, breaking rules, making mistakes and having fun.
Mary Lou Cook
Why declame against passions? Aren't they the only beautiful thing on earth, the source of heroism, enthusiasm, poetry, music, arts, everything at last?

Flaubert
Let us preserve by wisdom what ae have acuired by enthusiasm

Condorcet
You want to join the Team ReminiSens?