Make a unforgettable gift!
Choose the formula in ReminiSens Gift Shop that suits you among our different proposals.
Offer an original gift for his/her birthday, for Christmas or for your wedding anniversary!
Proceed to the secure payment by following the steps. Then, we will send you within 72hours and by email a stylish "gift voucher" ticket to give to your guest(s)!
Check out what they think about us...
~~~
Terms of validity
Your guests will have one year to come and enjoy their Dinner Show in our baroque cabaret. Gift vouchers will be valid all year round, except for special events: Valentine's Day, Molière Month, Louis XIV Week, Halloween or New Year's Day.
Practical Details

To use their gift vouchers, your guests just need to book at the date and time they want on our "book a table" page and specify the "Travel Code" indicated on the voucher. On the day of the reservation, they will be able to present the paper or electronic gift voucher to Dorine who will install it for an extraordinary experience!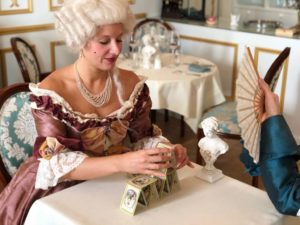 Comtess Dinner
4 Courses Dinner

"Theater at your Table" Show

110,00 € / person

Comtess Dinner

& Wine

4 Courses Dinner

Food & Wine Pairing

"That at your Table" Show

159,00 € / person

Marquise Dinner

5 Courses Dinner

"Theater at your Table" Show

130,00 € / person

Marquise Dinner
& Wine
5 Courses Dinner

Food and Wine Pairing

"Theater at your Table" Show

189,00 € / person
Duchess Dinner
7 Courses Dinner
"Theater at you Table" Show

160,00 € / person

Duchess Dinner
& Wine

7 Courses Dinner

Food and Wine Pairing

"Theater at your Table" Show

238,00 € / Person